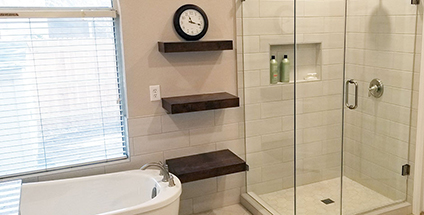 Bathrooms and kitchens receive the most traffic in any home. From a usage to return-on-investment stand it makes sense to remodel.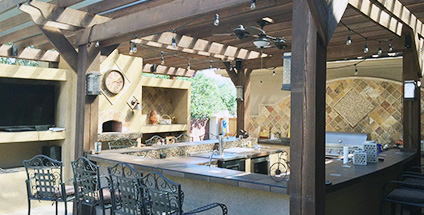 Patio covers and arbors help you claim your outdoor spaces in the scorching Texas summer. Maintain your home's value by repairing rotted wood and giving your home exterior a fresh coat of paint.
Our services get the job done quickly and professionally.
We pride ourselves in providing the best possible service, while still maintaining fair & honest pricing. We provide only our best work and leave the job in immaculate condition.
This was the least painful contracting experience ever! So refreshing to deal with Phillip who obviously knows his business so well and Shannon who makes sure the plans made are executed as agreed. My son and I got his house repaired and painted without a single hitch and at a reasonable price.
~ R.S.
…He did everything I asked and more. The workmanship was excellent and I found that I can totally trust Phil to do what he says and complete a job in a timely manner as promised.. I highly recommend Pro Service. Thank you Phil!
~ S.L.
I've remodeled two houses, and I can say through experience that it's very difficult to find good contractors. I'm looking for someone to come out, give you a reasonable quote, and follow through in a reasonable amount of time. That's exactly what Phil did for us
~ M.N.
Phil was GREAT to work with. Any issue that came up, he was quick to take care of it. I was comfortable with him and his workers in my house, and they finished quickly. We LOVE our new bathroom!
~ K.P.
Phil is the definition of an excellent contractor. He is knowledgeable, prompt, fair, efficient and he communicates well before, during and after the project. The quality of work was outstanding and his crews were excellent. Everyone showed up on time, every time.
~ W.G.
They were easy to work with, dependable and did great work. The work site was kept clean, the representatives were friendly and knowledgeable and they even helped select and source matching tile…
~ T.T.
The happiest we've been in a long time! Shannon & Phil gave us wonderful customer service. They stayed in touch with us from beginning to end. The crew was on time; they worked hard; they cleaned up after themselves and were very considerate…
~ D.P.
Great and Responsible Group of Workers to work with. They where there everyday on time and cleaned up good. Great attention to details. My Kitchen turned out great. Refinishing my Cabinets was a great choice!
~ K.G.